When the guys at
Faixa Rua
offered me a chance to review their Leve gi, I immediately took them up on their offer. I have been on the hunt for the perfect gi for the entirety of my grappling career, but the usual wisdom of "buy a few brands and find the one whose cut fits you best" never sat well with me. Buy a few brands of gis? Really? I should spend a few hundred dollars and hope that I stumble into a gi that fits me just right? No thanks. I will stick to my gym supplied Gameness gis that fit me okay and are affordable. I would rather buy a product that I am familiar with than blow some hard earned royalties on a gi that may or may not fit me after a few washes.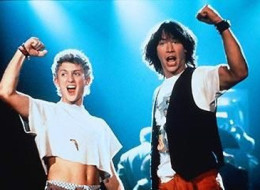 I had tried that approach before. I bought a gi that looked nice but came from a small manufacturer. The first time I wore it, it felt great. After another wash, it still fit well. But on the third wash the pants morphed into capris and the top looked like one of Bill's t-shirts from
Bill and Ted's Excellent Adventure.
And that's when I gave up on exploring the gi world.
The Leve gi gave me hope, however. On the
Faixa Rua listing
for the Leve, the description clearly states that "our Leve is designed with a tighter fit for taller smaller fighters." For me, this was a new approach for a company to take. I knew exactly what kind of fit the gi was designed for, which in my case was what I was needed. Had it been designed for a different build, I would know to look at another gi, saving me a lot of headache and frustration. I spoke to Richard Martin, the Director of Faixa Rua, about their approach to gi fitting.
He said, "The fit of the Leve is designed to be right on the limit for IBJJF competition rules, it will fit slightly thicker set people but may they may not get through the gi checker. We also have a Classico gi whish is a slightly wider fit, slightly looser sleeves, and a little shorter. I can get through a gi checker in a Leve and I am 5'11: and 195 lbs. It's usually guys who have large arms that may have a problem, but a Classico would be fine for them. We used to make a Gordo fit as well which was for wider guys. We may well do another run of them as they were popular."
Martin also suggested that customers shrink the Leve to fit, which he believes to be more ideal than the "no shrink" gis that end up shrinking anyway. I agree.
And how is the fit? Incredible. The Leve is the best fitting gi I have ever owned. I shrunk it once, and it fits my build perfectly. At 5'10" and 170 lbs, the gi is comfortable, lightweight, and easy to move in. The pants are especially comfortable as they are made with a soft but durable cotton rather than a stiff cotton-like canvas which seems to have become the norm among the major brands. I feel good in this gi. I am not swimming in the top or the pants, and I also do not feel like I am wearing a pair of feudal tighty whities either. The Leve has become my new favorite gi.
In terms of durability, I waited over three months to write this review because I wanted to beat the crap out of the gi before I made a recommendation to my readers. In that time, I wore it roughly twice a week, depending on my training rotation, and I wore it to open mat as often as possible so that it would get plenty of work. After that training time and that abuse, the gi still looks like new, which suggests a respectable lifespan for the Leve.
I have one minor complaint with the Leve, and that is the aesthetics. Martin said that Faixa Rua deliberately avoided overly elaborate stitching and obnoxiously large patches, and I can definitely appreciate that reasoning. Too many gis look like Nascar uniforms with head to toe patches and more embroidery than your grandmother's novelty sweaters. At the same time, however, the shoulder patches on the Faixa Rua feel a bit dated, and while this would not stop me from buying a Leve in the future, it wouldn't hurt to revise the design to attract an audience that can appreciate minimalism but still wants a spiffy looking gi.
The last thing you should know about the Leve and other Faixa Rua gis: they are difficult to get in the United States. Faixa Rua itself does not generally export directly to customers outside of the United Kingdom, and Budovideos and other retailers have not yet decided to stock Faixa Rua products. If you would like a Faixa Rua a gi, send an email to your favorite retailer and encourage them to pick up a shipment of Leves.